171112 (:
This is when i am supposed to focus on studies,
but here i am to edit photos,
to blog here and to express my gratitude towards them (:
Let's go back to 2350 of 131112 (:
was doing physics and talking to pei at the same time,
and i heard a loud sound which eventually scard me ._.
my phone was vibrating on the wooden table
and thus producing a loud sound.
It was zhijie (:
My first thought was what subject is he going to ask me d:
but i was wrong, it's just a call just to occupy my line,
people over the phone started to confuse me,
using different sounds to talk to me and ask me to guess,
i was like omgeeee ,who is who and what is what ._.
time past so fast that, it was 12 already (:
Rach joined call just in time,
wishing me by singing birthday song :")
wo de yan jing jin sha liao ._.
xie xie zhijie, zethong, rachael & jingxian (:
At the same time,
the 2 awesome yet hopeless people d:
spamming my conversation like nobody else,
more than a hundred times of copypaste happy birthday,
throwing millions of bomb towards me,
and i call my birthday as happy bomb day (:
It has been so long i have not been received
that much of wishes through phone,
Cause I thought no one wished through phone nowadays,
cause there is a thing exist in this world namely facebook ._.
Checked out twitter after the call,
saw a super super big bunny :D
I think i smiled quite long and staring at it
too cute that i can't resist,
bunny for the win <3 nbsp="nbsp">3>
xie xie ama (: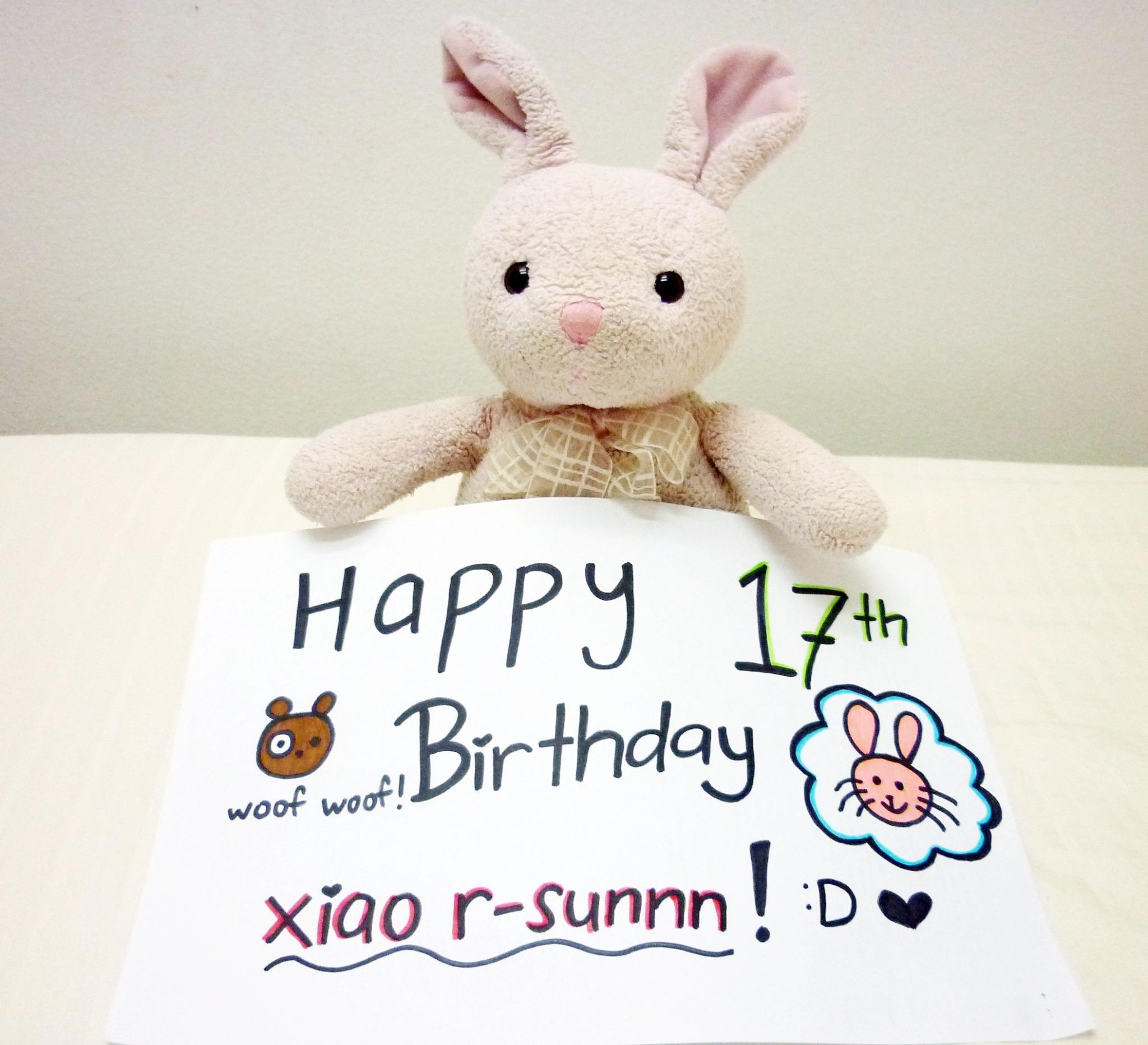 141112 (:
I was happy enough,
to have all the awesome friends and family
to remember my birthday (:
although there was no celebration for me as usual,
but am still a happy girl,
cause all the wishes to me are the simplest pleasure (:
161112 (:
Before this I was struggling where to go,
yi jia ren and rfamily both organized a celebration ._.
Both are my besties and I was stuck in the middle.
But mummy disapproval to the study plan in the library,
and her approval for me to go to popular,
I ended up went to rfamily's (:
and indeed i missed my 3 consecutive years to celebrate with
my birthday buddy, yu hang ._.
Received a real lovely card in the morning,
nicely sealed with a brown and white cellophane tape,
Open it carefully and was super happy to see that (:
super touched with all the words in it,
and yes there will be more to go <3 nbsp="nbsp" p="p">xie xie yi jia ren (:
Went to 1u in the afternoon (:
a little child asked me to play hide and seek ._.
which indeed failed cause it ended up,
they had to find for me in the popular d:
Walking around while trying to call pei,
hsienloong was like kidnapping me and michelle d:
Talking about bunny along the way with ama :D
accidentally walked into a shop where the shopkeeper stared at me ._.
Stopped by at fish & co at last (:
viewing bunny's photo on ama's phone,
laughing at my imagination on strawberry head d:
and guessing will pei show up in the end ._.
Jayden joined in,
the 2 guys were talking their things,
and me and ama kept laughing about other things d:
great mind are alike i guess, heh (:
Then there was suddenly a gale,
blew a big cake and sand into my eyes again,
was awkward much too see the waiter taking a cake,
and for sure really appreciated it (:
They sang birthday song in 3 languages,
wishing for all is well,
tried so hard to blew off the candles at once,
and i cut the cake until it was not in ratio at all d:
Fruit of the day will be strawberry d:
ama and I was laughing while eating the cake,
Kept imagining the straberry bunny head again , heh
can't wait to see that :D
Being dragged to arcade after lunch ._.
I thought I was just going to see them play,
ended up got forced to threw some basketball,
in order to take back my bag ._.
Then, went camping at popular d:
Finished the past years that i want to do,
the 2 boys were talking more than studying d:
but is better to have someone there (:
thankyou Michelle, Hsienloong and Jayden (:
and not to forget pei who wants to join in but failed d:
This year,
I realized that i got more awesome friends that i thought,
they just don't fail to surprise me,
be it yijiaren, rfamily, the s1's, and even normal friends :")
Though all of their way are simple much,
but for me is the sincerity that counts (:
I do not know whether all of us will still keep in touch even after this year,
cause everyone will have their own pathway in the new chapter of life,
but still i really want to thanks everyone of you,
and i hope to keep in touch with all of you (:
To my family,
thank you for taking care of me and lending me a helping hand,
whenver , wherever throughout this 16 years (:
I might be the worst out of all, being a big trouble all the time,
but still thank you for all the patience that made me feel really warm :")
There is nothing i can express well through word,
but i strongly believe that family bonds is purely the strongest (:
To yijiaren,
Though I have not been talking much whenever i am with you people,
but thank you for all the wonderful memories you all gave me,
thank you for all the support and always be with me,
from form 2 till now,
from probationers till camp till retirement in the prefectorial board,
from studies till having fun with each other,
and I am sure there will be more to go (:
To pei,
Although most of the things we talk are rubbish , HAHA
but you are always with me no matter rain or shine,
walking out to school everyday after school dismiss,
having rubbish conversation everyday,
encourage and laugh at each other,
Though you have not pop out yesterday,
i would still like to say thank you (:
To Michelle,
Everytime we talk it would be bunny, gou gou,
and many more plushies :D
I still remember we brought gou gou and bunny to school,
skyping to play with them,
and the things we did always made rmama shook her head d;
I feel happy to do all these things with you , heh
xie xie ama and bunny (:
To Rach,
Hello my 4 years classmates :D
sitting beside me for 2 long years,
helping each other in everything,
and you had been a good messenger of kaisong, heh (:
xie xie rach and smile more :D
To the s1's
Being 2 years of classmates,
though i was not in class at quite a lot time,
and i don't make noise with you guys d:
but still there are lots of memories that i can't said them out.
Thank you for giving me lots of laughter and many more (:
Okay,
I do not think I can finish this now,
i should go back to my studies ._.
Maybe I'll do it after spm and maybe after class trip (:
once again,a very big thank you for giving me an unforgettable birthday (: xoxo
3>